Products
We carry several different brands of products so we can suit your hair needs! There are many benefits to using hair product. Each one serves a specific purpose for your hair, and to find out this specific purpose all you need to do is ask! Shampoos and conditioners that will protect and emphasize your hair colour, or specialty shampoos for sensitive and dry scalps. Gels, waxes, mousses, and hairsprays to keep your hair the way you want it to look all day. Sprays and other products to aid in frizz control, straightening and even curling your hair. We have a product for everything!  If you are unsure about which product you should be using always feel free to ask anyone of us at Rock'N Mick's Hair Hut, as we can share to you our suggestions and the benefits of using product. The brands of product that we carry are as follows: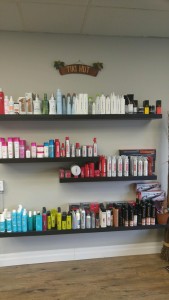 This is our Product Wall, With many different products to suit all your Hair Needs!
Looking for a gift idea? We also have Gift Certificates for Services/Products carried!
For Pricing information on product please see in store or call us at  519 336 1488